From J. Redmond:
WHAT race? The ONLY candidate for Colbert County Sheriff that I have seen doing ANY campaigning is Williamson. His t-shirts are EVERYWHERE. His signs are EVERYWHERE. His campaign workers are EVERYWHERE. Where's Andrews??????
Our thoughts? There's still plenty of time left. Will Colbert again go for a straight Democratic ticket? Is Frank Williamson running scared? Does Phil Andrews have an October Surprise for Colbert County voters? Does anyone care anymore?
News flash: You should care!
*****
Muscle Shoals City Council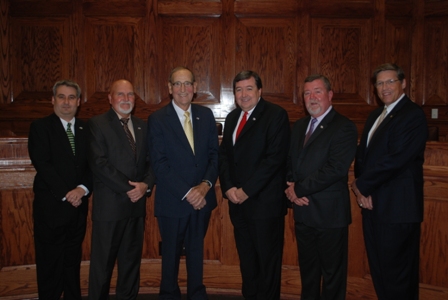 Pictured L to R: Joe Pampinto, Neal Willis, Jim Holland, Mike Lockhart, Allen Noles, Mayor David Bradford

Place Number 1

Joe E. Pampinto
Joe is a lifelong resident of Muscle Shoals and attended Muscle Shoals High School. He is a graduate of the University of North Alabama. Joe has two children, Payton and Parker. He has served as member and Chairman of the Parks and Recreation Board from 1992 until 2000. He has served on the Alabama Association of School Board's Board of Directors and as Chairman of the Alabama Risk Management for Schools. Joe was elected to the Colbert County Board of Education in 1994 and was reelected in 2000. He served as chairman of the board until resigning to assume his City Council seat in 2004. Joe was re-elected to the City Council in 2008 and ran unopposed in 2012.
Joe was appointed by the city council to represent the citizens of Muscle Shoals as a member of the Solid Waste Authority and is employed at Wise Alloys serving as Plant Manager. H
e has attained "Advanced Certifed Municipal Official" status with the Alabama League of Municipalities. He considers it "an honor to serve the citizens of Muscle Shoals".
Place Number 2

Neal Willis
Neal was born in Russellville, Al in 1951 and moved to Muscle Shoals in 1964. He graduated from Muscle Shoals High School in 1969 and served in the United States Army. Neal has been employed with BellSouth for forty years and is the owner and operator of Neal Willis Chimney Service. He and his wife Lessa have three children Sarah, Jeffrey, and Nicholas. The Willis' attend Highland Park Baptist Church. Neal will begin his fourth term on the City Council in November 2012. When asked about his vision for the City, he stated "the City is taking big steps forward. With God's help, we can all make this an even greater place to live, work and raise a family. I am proud to serve the people"
Place Number 3

Mike Lockhart
Mike and his family moved to
Muscle Shoals
in 1993. He has been employeed at Helen Keller Hospital for 19 years. His wife, Cheryl, is a teacher in the Muscle Shoals City School System. Mike and Cheryl have two children, both graduates of Muscle Shoals High School. Mike has been active in the city serving as a volunteer coach, and is a past member of both the Park and Recreation Board and the Civil Service Board. He and his family attend Highland Park Baptist Church. Mike is serving his first term as a council member and looks forward to serving the citizens of Muscle Shoals.
Place Number 4

James "Jim" Holland
Jim is currently serving his sixth term on the City Council, serving currently as President of the Council. Jim has two children and one grandchild. He is retired from Reynolds Metals Company. Jim currently operates a local accounting/tax service.
Place Number 5

Allen Noles
Allen is currently serving his fifth term on the City Council. He is a graduate of Muscle Shoals High School and has been employed by the Muscle Shoals Electric Board for the past thirty six years. His wife Teena, is a retired high school science and chemistry teacher. They have two children, Matthew and Jenny Strickland. Jenny is married to Hayden Strickland and they have two children, Abby and Samantha. Matthew is married to the former Jamie Lockland and they have a daughter Mackensie.
If you're tired of your tax money going to high school football, do something/call someone: (256) 383-5675
*****
Just when you thought we presented every "Sleepy Hollow" known to mankind two years ago: